Welcome to AAUW, Virginia Beach Branch!
URGENT BRANCH UPDATE
The health and safety of our members is our highest priority. To minimize the potential spread of coronavirus (COVID-19) within our community, all face to face meetings and events are cancelled through June 10th.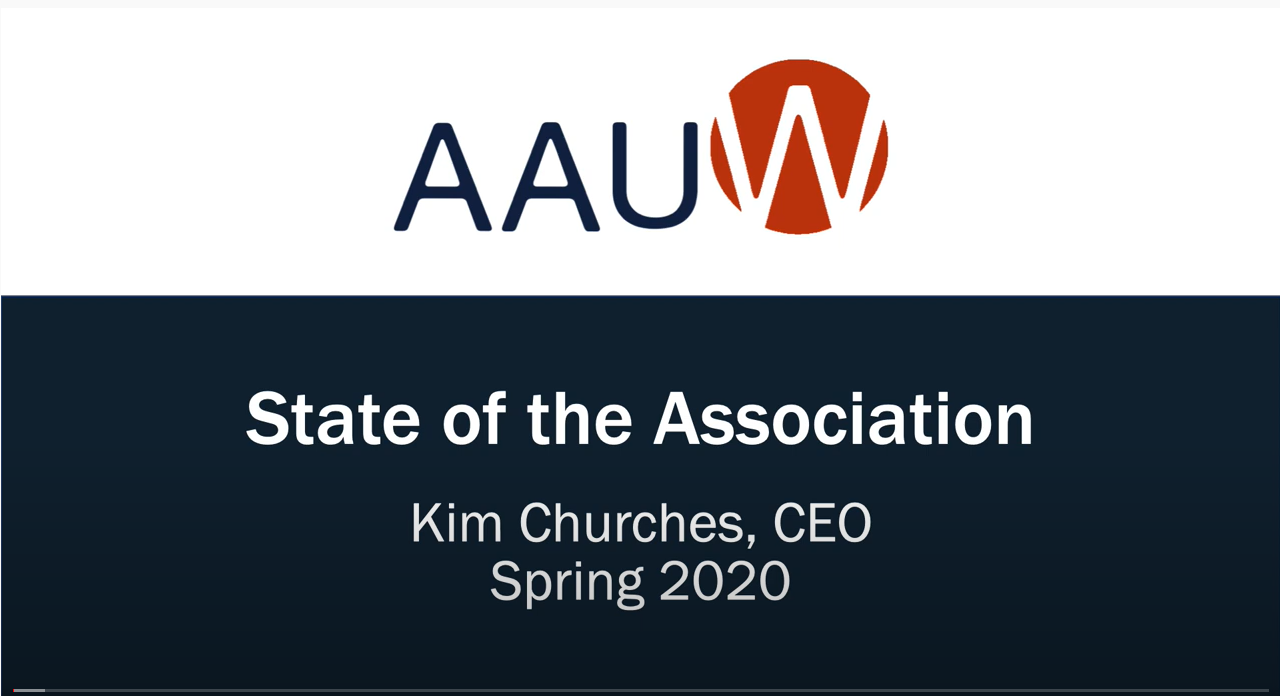 The State of AAUW: Staying Strong Together
While AAUW members can't gather in person for their spring conventions, they can — and should — continue to cultivate strong relationships and advance gender equity, said AAUW CEO Kim Churches in her recent "State of AAUW" presentation. Churches provided key organizational updates, including:
•Highlighting virtual programming like AAUW's weekly webinar series, including her interview with Diane Rehm, talks by distinguished Fellowships and Grants alumnae, and tutorials on professional development.
•Sharing our renewed partnership with the Coca-Cola Foundation to bring  salary-negotiation training to the nation's 107 historically black colleges and universities.
•Giving kudos to 60 branches working toward 5-star recognition for meeting our mission, especially the three that have attained all five stars: AAUW Marin (California), Bellingham (Washington), and Northeast Tarrant County (Texas).
•Explaining how we're engaging the next generation of activists through our Equity Network.
•Encouraging donations to AAUW's Greatest Needs Fund, which is crucial to AAUW's sustainability and responsiveness during the pandemic.
After watching the State of AAUW, please join Kim on Tuesday, May 26, at 4 p.m. ET for a virtual town hall meeting. You can ask questions about AAUW'S priorities and strategies to be relevant in this difficult economy, and share ideas on how to stay committed and connected.


AAUW's Five-Star National Recognition Program rewards affiliates (states, branches and other organizations) for aligning their work with the AAUW strategic plan and other initiatives that foster the organization's mission of advancing gender equity for women and girls. The program will run from July 2019 through June 2021.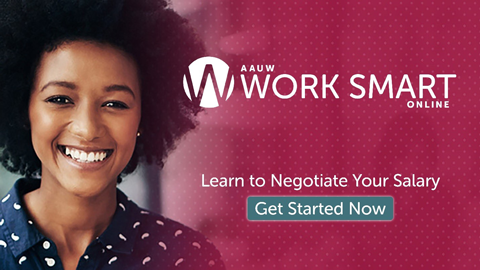 Work Smart Online Has Launched — Now Help Us Mobilize a Million
 AAUW has launched a free, online version of its Work Smart course, which teaches women how to negotiate for higher salaries and become better leaders and communicators. We're now asking all AAUW members to take the one-hour curriculum — and then ask 20 women in your life to do the same. With your help, we can reach the goal of our "Members Mobilize a Million" campaign. We hope to train 10 million women in salary negotiations by 2022 to help achieve pay equity by 2030.